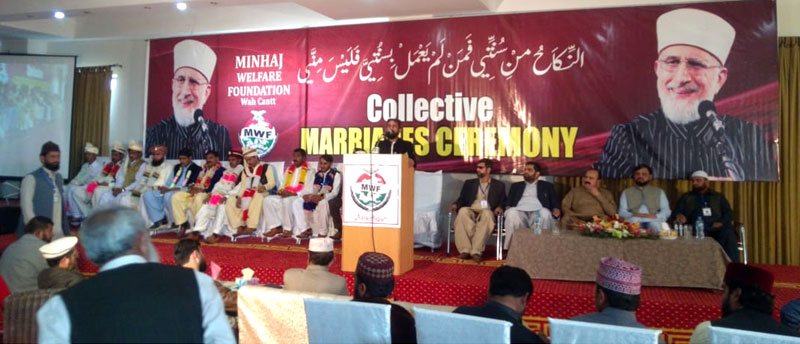 A mass marriage ceremony of 12 couples was held in a local hall under the banner of the Minhaj Welfare Foundation Wah Cantonment, Rawalpindi. Shaykh-ul-Islam Dr Muhammad Tahir-ul-Qadri delivered a telephonic address to the event. The scholars of the MQI solemnized the Nikah of the couples. The organization also gifted the items of necessity to run the household honorably. The hundreds of the guests were also entertained with the marriage feast. Items worth Rs. 1.5 lac were given to every newly married couple.
The people belonging to various walks of life including MNA Mansoor Khan, MPA Hammad Siddiqi, Mrs. Shabana, Director MWF Sayyid Amjad Ali Shah, MQI central leader Ain-ul-Haq Baghdadi, Anaar Khan Gondal, Haji Liaqat, Sagheer Khan, Khurram Sheraz, Azhar Cheema, Saifullah Khan and others.
Addressing the ceremony, Dr Tahir-ul-Qadri said that public welfare is the pivot of the MQI's services and efforts. He said that service of the humanity is a higher form of worship. He said that a good deed done with utmost sincerity is accepted in the court of Allah Almighty. He said that when we address people's problems and make their lives easy, the passion of public service may not be acknowledged in the world but it is greatly appreciated in the court of Allah. He said that helping those in dire need is our moral, social and religious obligation and selfless public service forms the core of our faith and our essential humanity.
Director MWF Sayyid Amjad Ali Shah, while addressing the ceremony, said that helping someone without hurting his self-respect is a noble act. He said that Wah cantonment organization has done an amazing thing by making arrangements for the marriage of 12 deserving couples. He said that mass marriage ceremonies is a flagship project of the MWF that continue to take place throughout the year. He said that thousands of daughters have been married off to date who are living happily lives in their homes. He also threw light on the main welfare projects of the MWF.
MQI leader Ain-ul-Haq Baghdadi, while speaking on the occasion, said that in addition to promotion of interfaith dialogue, peace and knowledge, MQI is busy in serving the ailing humanity through its vast network. He said that the idea of selfless service to humanity needs to be popularized. He said that MWF under the patronage of Dr Tahir-ul-Qadri has taken steps that have given relief to the people. He said that a mass marriage ceremony will take place in Feb in Lahore in which deserving couples will be married off.
MNA Mansoor Khan, MPA Hammad Siddiqi, Mrs. Shabana and others also shared their views in the ceremony and appreciated the leadership of Dr Tahir-ul-Qadri for his welfare mission. They said that Dr Tahir-ul-Qadri is pride of not only Pakistan but also of the whole Islamic world. The ceremony ended on Dua.