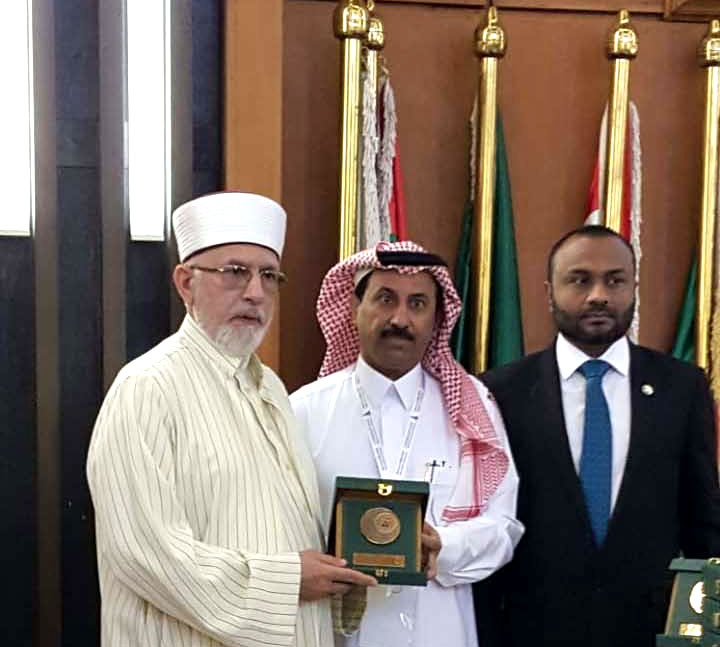 Senior MQI leaders Khurram Nawaz Gandapur, Brig. (r) Iqbal Ahmad Khan, GM Malik, Engr. Rafique Najam and Noorullah Siddiqi have said in their joint statement that the acknowledgment of Dr Tahir-ul-Qadri's services and contributions for the promotion of peace and interfaith dialogue by the highest forum of the Muslim world, OIC, is a matter of great pride. They said that it no doubt is a great honor for the MQI. They said that Dr Tahir-ul-Qadri gave a new direction to the Muslim world for the eradication of terrorism.
Khurram Nawaz Gandapur said that we are lucky that we have Dr Tahir-ul-Qadri among us who not only understands the problems and challenges facing the Islamic world facing the Muslim world but also has the capability to offer recommendations for their resolution.
Brig. (r) Iqbal Ahmad Khan said that the counter-terrorism presented by Dr Tahir-ul-Qadri has become the narrative of the Muslim world. He said that a resolution was adopted at the conclusion of the OIC moot in Saudi Arabia that mentioned the services of MQI and Dr Tahir-ul-Qadri for promotion of peace and it is a matter of huge honor for us.
Engr. Rafique Najam said that Dr Tahir-ul-Qadri is popular both in the Arab and non-Arab Islamic world and East and West due to his efforts and intellectual contributions. GM Malik said that the mention of Dr Tahir-ul-Qadri's role in the unanimously adopted by the OIC represents the acknowledgment of services and contributions spread over the last fifty years.
Noorullah Siddiqi said that the participation of Dr Tahir-ul-Qadri in the OIC conference for two days was a top trend on social media. He said that it was a reflection of the love of educated Pakistan for Dr Qadri.