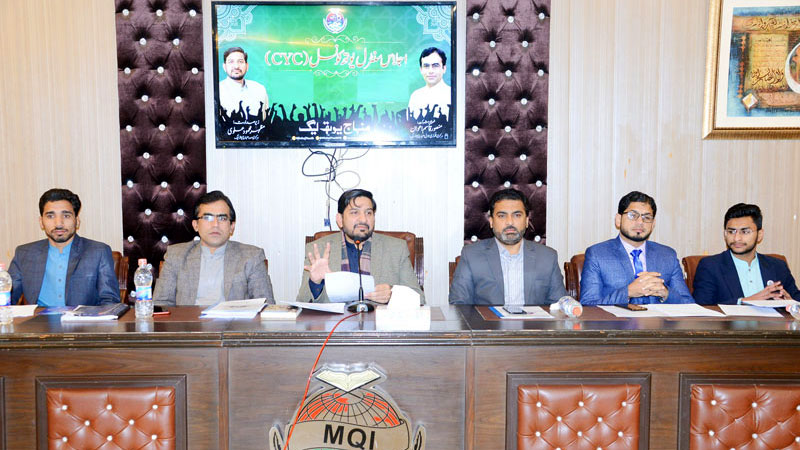 A meeting of the MYL Executive Council was held at the central secretariat with Mazhar Mahmood Alvi in the chair. The meeting was attended by the central, provincial, and district officeholders. Addressing the meeting, the central president Mazhar Mahmood Alvi said that the youth are the asset of the nation. He said they have a huge role to play in the progress and prosperity of any nation. He said Pakistan is lucky to have a youthful population, an opportunity that can be leveraged to put the country on the path of peace and development.
Mazhar Alvi while it is important to resolve the problems of corruption, health, education, and poverty, it is equally important to talk about youth-related issues. He said the lack of merit and nepotism has gravely affected the creative potential of our youth. He said the world is talking about innovation and new discoveries thanks to the advancement in the field of information technology and we, in our country, has failed to introduce any policy for the youth empowerment and career counseling.
The MYL President said that the youth-specific policies need to be formulated, stating that better programs and training need to be started to empower them. He said the provision of quality education to the youth is one of the core responsibilities of the state. He said unless we impart meaningful education to our youth, we cannot realise the dream of establishing a peaceful, and prosperous society.
Mazhar Alvi said MYL is an international movement dedicated to the idea of character building of the youth. He said that the ideology and thinking of Dr Tahir-ul-Qadri has influenced our youth in a positive way, inspiring them to render services for the well-being of the society. He said the struggle of MYL is for the establishment of a peaceful society and eradication of extremism. He said that the authorities must include the youth in the policy-making by including their input in the process. He said that the mainstreaming of the role of the youth will help deal a severe blow to corruption and terrorism.
The meeting was attended by Secretary General MYL Mansoor Qasim Awan, Umar Qureshi, Inam Mustafavi, Mohsin Mushtaq, and Mohsin Shahzad Mughal.