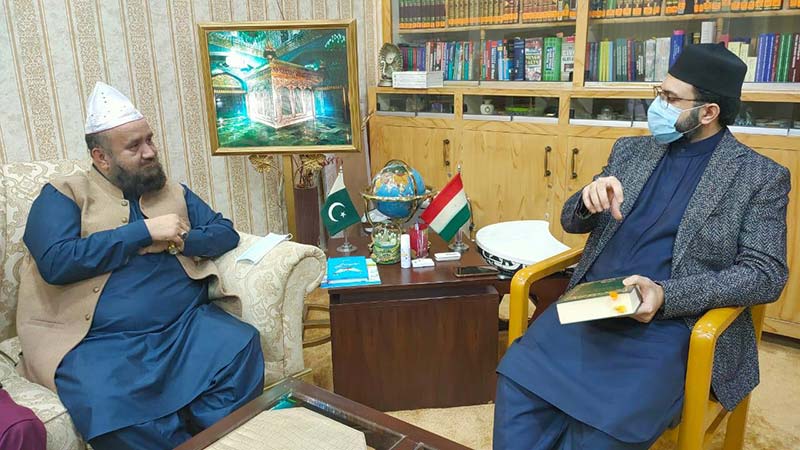 Renowned religious and spiritual personality and Sajjada-e-Nasheen Hussainabad Pir Syed Shams-ur-Rahman Mash'hadi visited the central secretariat and met with Chairman MQI Supreme Council Dr Hassan Mohi-ud-Din Qadri. Raja Zahid Mahmood, Noorullah Siddiqui, Mir Asif Akbar, Arif Chaudhry, Imran Malik Advocate, and other leaders were present on the occasion.
Speaking on the occasion, Dr Hassan Mohi-ud-Din Qadri said that the Islamic world is in need of guidance from such religious scholars and Mashaykh that are able to forge unity in their ranks. He said there is a dire need of establishing brotherhood, tolerance, and moderation in society. He asked the religious scholars and Mashaykh to impart a lesson of unity and oneness from the pulpit, stating that getting Muslim Ummah together is not only the religious duty of religious scholars but also the need of the hour. He said that sectarianism has inflicted irreparable damage to the Ummah which can only be mitigated if the religious scholars come forward and play their role.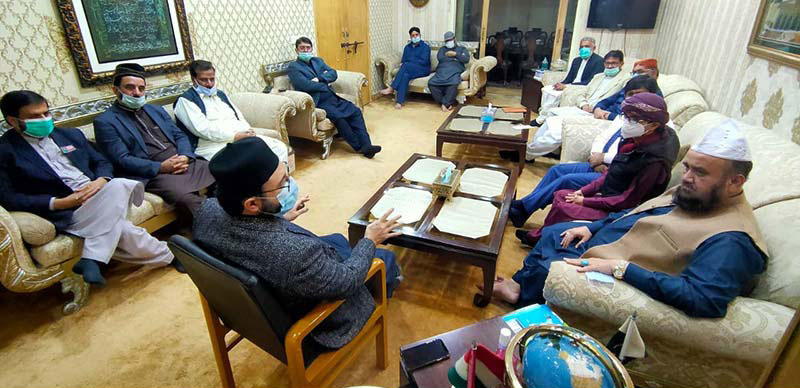 Pir Syed Shams-ur-Rahman Mash'hdi, while speaking on the occasion, said that Dr Tahir-ul-Qadri is an ambassador of unity, love, and interfaith dialogue and has endeavored to promote these causes from the platform of MQI. He said he gets the message of unity and solidarity whenever he visits the MQI secretariat. He said the speeches and books of Dr Tahir-ul-Qadri are a great scholarly asset that will continue to quench the thirst of the seekers of knowledge till the Day of Judgment. He said that MQI is working hard for the promotion and restoration of spiritual values.
Allama Mir Asif Akbar, Raja Zahid Mahmood, and Arif Chaudhry briefed Sajjada-e-Nasheen on the international services of Dr Tahir-ul-Qadri and MQI during his visit to various departments of the central secretariat. Pir Syed Shams-ur-Rahman Mash'hadi also visited Farid-e-Millat Research Institute and Gosha-e-Durood and was briefed about the recent publications of Dr Tahir-ul-Qadri.