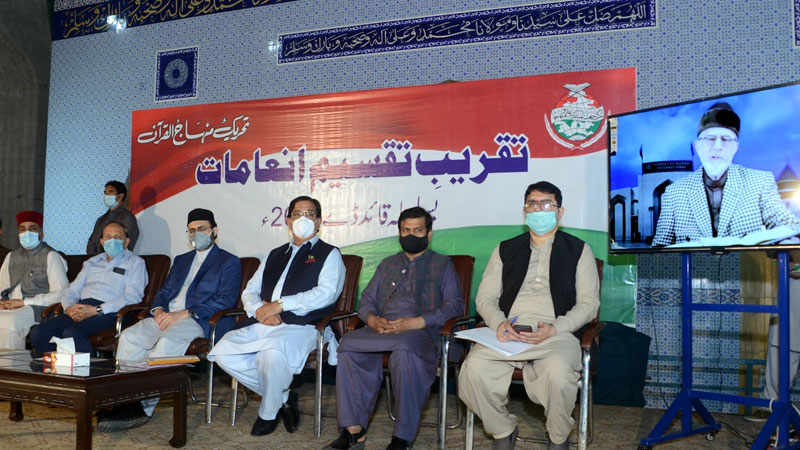 MQI founding-leader Shaykh-ul-Islam Dr Muhammad Tahir-ul-Qadri has said that the character-building of the nation is the foremost responsibility of both the political and religious leadership. He said that society's betterment lies in getting rid of the system that refuses to differentiate between the good and bad. He said the of the biggest crises facing us is moral decay. He said there is hardly anything to distinguish between truth and falsehood and greed and lust have taken the place of moral values. He asked the religious scholars and the youth to highlight the real teachings of Islam through social media.
Dr Tahir-ul-Qadri made these remarks while addressing an organizational meeting held at the central secretariat through a video link. He said that MQI has set up exemplary institutions for the education and training and character-building of the youth and saved them from the scourge of violence, extremism, and sectarianism.
Performance awards were given to the youths and organizational office-holders of MSM, Women League, and Youth Wing for their excellent performance as part of the mass awareness campaign. These awards were distributed on behalf of Chairman MQI Supreme Council Dr Hassan Mohi-ud-Din Qadri.
Brig. (r ) Iqbal Ahmad Khan, Khurram Nawaz Gandapur, Engineer Muhammad Rafique Najam, Allama Rana Muhammad Idrees, Syed Altaf Hussain Shah, Noorullah Siddiqui, Raja Zahid Mahmood, Allama Mir Asif Akbar, were present on the occasion. The ceremony was also attended by Jawad Hamid, Shahid Lateef, central MWL president Ms. Farah Naz, Mazhar Mahmood Alvi, Chaudhry Irfan Yousaf, Sidra Karamat and other office-holders.
Dr Tahir-ul-Qadri further stated that Muslim Ummah was given the prophetic responsibility for the promotion of religious teachings. He asked the youth to employ social media to its fullest capacity for this purpose. He also underlined the need for formal training to learn how to make effective use of modern means of communication. He said that excellence of thought, the best manner of communication, and interpersonal skills go a long way in creating an impact and achieving lasting results.