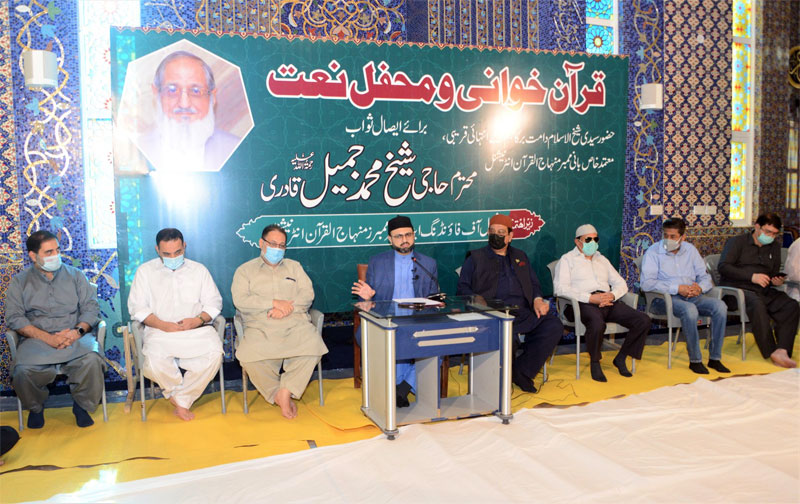 A condolence reference in the memory of al-Haj Sheikh Muhammad Jamil was held at Jamy Mosque Shaykh-ul-Islam in Model Town. Addressing the ceremony, Chairman MQI Supreme Council Dr Hassan Mohi-ud-Din Qadri said that al-Haj Sheikh Muhammad Jamil Qadri was a right-hand companion of Shaykh-ul-Islam Dr Muhammad Tahir-ul-Qadri and the founding member of MQI. He said that it is due to the efforts of committed and passionate people such as Sheikh Jamil Qadri that MQI's message of peace, love, and interfaith harmony is reaching people across the world. He said that Sheikh sahib spent a considerable time in the company of Shaykh-ul-Islam, often traveled with him, and emerged as the identity of MQI, adding that he was the member of the first Majlis-e-Shura, Majlis-e-A'mla, and the Board of Directors. He was also on the Board of Governors of the Minhaj University Lahore.
Dr Hassan Mohi-ud-Din Qadri said that al-Haj Sheikh Jamil Qadri rendered exemplary services during the construction of Minhaj College for Women. He said that Sheikh sahib would also be at the forefront of the construction of all the educational and training institutions of MQI.
Shaykh-ul-Islam Dr Muhammad Tahir-ul-Qadri joined the ceremony through an audio link, made a special Dua for the departed soul, and expressed his heartfelt condolences to the bereaved family. Speaking on the occasion, he said that Sheikh Jamil joined MQI in the early days of its formation and stood by the mission with absolute commitment and devotion till the last breath of his life. He said that Sheikh Jamil Qadri was a sincere and pious person, adding that more than the organizational relationship, he had a relationship with him at a personal level. He said that Sheikh sahib was among those companions who enjoyed his confidence. He said that his services for MQI will be remembered for a long time and we are proud of his contributions.
The condolence reference was attended by Brig. (r ) Iqbal Ahmad Khan, Khurram Nawaz Gandapur, sons of late Shiekh Jamil namely Sohail Jamil, Nauman Jamil, Rizwan Jamil, Syed Altaf Hussain Shah, Noorullah Siddiqui, Allama Rana Muhammad Idrees, Jawad Hamid, Raja Zahid Mahmood, Shahzad Rasool, Haji Sheikh Aslam Qadri, Mazhar Alvi, Ch. Irfan Yousaf, Muhammad Tufail Qadri, Qari Riasat Chaddhar, Haji Muhammad Ishaq and scores of workers and office-holders.
The MQI leaders paid glowing tributes to al-Haj Sheikh Jamil Qadri for his services and contributions to the mission of MQI.