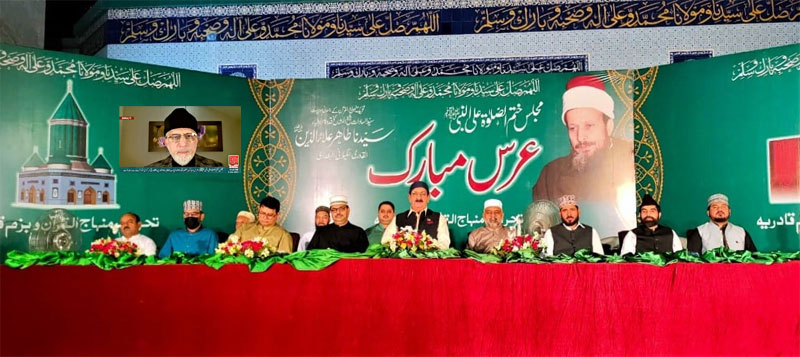 The monthly spiritual gathering of Gosha-e-Durood (for the month of July) that is held under the banner of MQI coincided with the 30th annual 'Urs' of Huzoor Qudwat-ul-Awliya' Sayyiduna Tahir Ala-ud-Din al-Qadri al-Gillani al-Baghdadi (ra). MQI founding-leader Shaykh-ul-Islam Dr Muhammad Tahir-ul-Qadri delivered his speech via the video link on this occasion.
Shaykh-ul-Islam said that Huzoor Qudwat-ul-Awliya' Sayyiduna Tahir Ala-ud-Din al-Qadri al-Gillani al-Baghdadi was an embodiment of the teachings of spiritualism taught by Sayyiduna Shaykh Abdul Qadir Jilani (ra), Hazrat Data Ganj Baksh Ali Hajveri (ra) and Hazrat Khawaja Junaid Baghdadi (ra). He was a paragon of piety and cleanliness and magnanimity. His commitment to protecting the honor and dignity of the religion was absolute. He would never mention his honorable family tree to anyone and humility and tenderness was part and parcel of his personality.
Dr Tahir-ul-Qadri said that during the course of 56 years of his practical life, he never saw any personality more well mannered and pious than his spiritual mentor who was indifferent to the world. He said that the love of the world and blind pursuit of cardinal desires causes one to fall down from the pedestal of humanity. He said that one enters the fold of spiritual following when one gives up one's bad habits and awakens one's heart as a seeker of truth. He said that a true disciple is punctual in the performance of his religious obligations and does not waver in fulfilling his rights and duties. He said that those who seek Allah's love have no other desire but to win His pleasure, as their heart is directed towards their Lord. He said that he who does not give up on the bad deeds does not deserve the station of a disciple. Such a following is hollow and does not mean anything.
The proceedings of the monthly spiritual gathering got underway with the recitation of the verses from the Holy Quran by Qari Noor Ahmad Chishti. Al-Haj Akhtar Hussain Qureshi, Hassan-e-Minhaj Afzal Noshahi, Shahzad Brothers and Zaheer Bilali Brothers had the honour to recite Naat.
MQI Secretary General Khurram Nawaz Gandapur, Noorullah Siddiqui, Jawwad Hamid, Tayyab Sheikh, Raja Zahid Mahmood, Haji Manzoor Hussain, Mazhar Alvi, Latif Madni, Hafiz Ghulam Farid, Shahzad Rasool, Minhaj-ud-Din Qadri, Allama Ghulam Murtaza Alvi, Raheem Ali, Muhammad Asif Sulehria, Abid Bashir Qadri, Sidra Karamat, and a large number of workers and people attended the ceremony.
The program ended with Dua for peace and prosperity of the country.