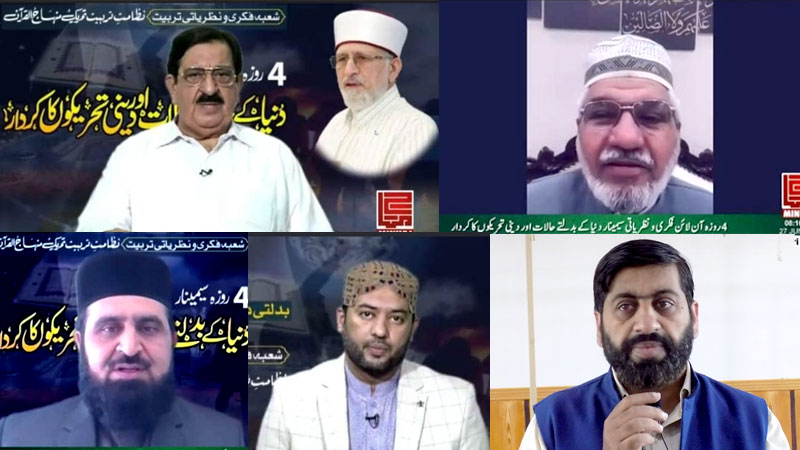 Directorate of Training, MQI, has organized a four-day international conference on the subject of "Changing world and the role of religious movements". Addressing the conference on the first day, MQI Secretary General Khurram Nawaz Gandapur said that the global powers stoked the fires of religious extremism in Pakistan for their political and economic interests. He said that the ideological terrorists got activated soon after the establishment of Pakistan as an independent country, ones that sowed the seeds of extremism and violent thinking in the country in the garb of religion but at the behest of their foreign masters. He said that the silence of the state institutions helped these scourges grow in scope and impact. He said whether it is about Afghanistan or any other region, effort is made to turn Pakistan into a theatre of war, adding that the religious circles are used for this purpose.
MQI Secretary General said that the international issues should be discussed on the platform of OIC and the entire Muslim world must adopt a unanimous course of action on the global political disputes. He said that the success to eliminate violence at individual level can be gained by making the OIC forum more effective. He said that Dr Tahir-ul-Qadri deserves a credit for saving religious and revivalist movement, MQI, from the scourges of extremism, violence and sectarianism.
Renowned religious scholar Allama Mufti Irshad Hussain Saeedi said in his remarks that MQI is an effective voice for interfaith tolerance and international peace. He said that different religious organizations focused on different aspects of religion in their struggle and remained confined to them but it is MQI that highlighted a comprehensive picture of the religion in the world.
Mufti Irshad Hussain Saeedi said that it is the credit of Shaykh-ul-Islam Dr Muhammad Tahir-ul-Qadri that he removed the blot of terrorism from the face of religion. He said that given the multidimensional efforts MQI has made for this purpose, this achievement owes itself to MQI alone.
Prof Muhammad Saleem, Ghulam Murtaza Alvi and Allama Minhaj-ud-Din Qadri addressed the conference on the inaugural day. The religious scholars from Australia, Denmark, UK, and Pakistan are attending the conference.