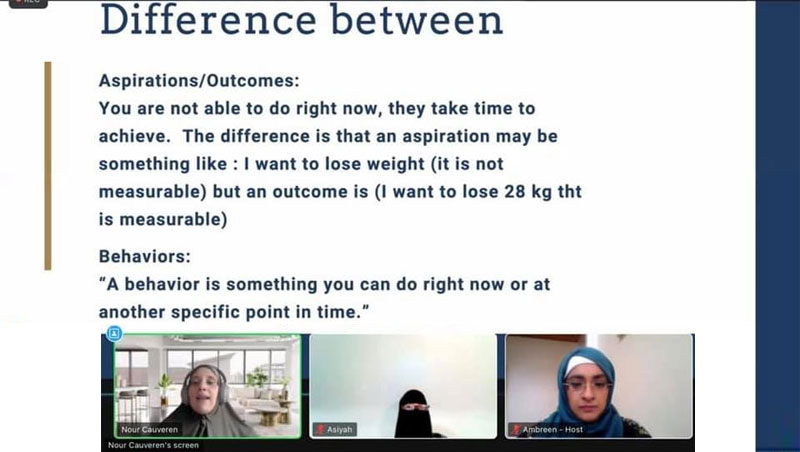 Day 2 of Al-Tazkiya 2021, in the afternoon, consisted of exclusive workshops that the participants signed up for which were interactive so that the sisters would be able to take part and have discussions with their fellow participants. Five workshops were held with speakers, Nour Cauveren, Sairish Hussain, Allia Tabassum, and Asima Zahir.
Nour Cauveren, a High Performance Life Coach, delivered two workshops. One of the workshops was entitled 'Get Clear and Get Moving', this was hosted by Sister Ghazala Hussain (Al-Tazkiya 2021 – Content Team). The second workshop facilitated by Nour was entitled 'Building Tiny Habits' which was hosted by Sister Ambreen Mehmood (Al-Tazkiya 2021 – Project Lead). Nour clarified the difference between 'aspiration' and the 'outcome' and then went on to explain the importance of the model B=MAP, where it's important to make the habit very tiny so that you are able to commit to it and not feel overwhelmed. She explained this by giving an example of reading the Holy Quran; now this statement is very vague and will seem unachievable. So, if we make it tiny, by saying read one word or one line daily, we've made it tiny and hence achievable. Then we need to anchor it to a moment, which will work as a prompt to keep this consistent. So, if we say we will read one word after Fajr Salah, or after every Salah. This will act as a reminder to read that one word or one line of the Holy Quran. Once you've achieved this, you need to celebrate, as our mind should feel we've achieved our goal. Hence further cementing our tiny habit, which will help build this further, InshaAllah. Then, finally thanking Allah Almighty for being able to do this. And most importantly, one must be consistent in this to make this a habit, as the Holy Prophet (PBUH) said: "Allah loves consistent good deeds, all be it small!."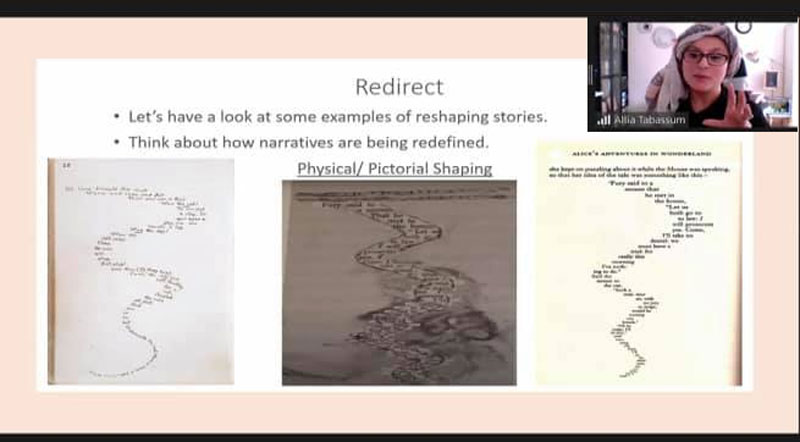 Allia Tabassum facilitated the workshop entitled, 'Childhood Narratives', hosted by Sister Asma Adam (Al-Tazkiya 2021 – Content Team). Participants discussed what some of their earliest memories of childhood stories were and why they were so memorable - first in small breakout rooms then together with all the attendees. She explained that some of the stories we grew up with were westernised and colonised – they were originally Eastern stories. Participants were encouraged to rediscover stories from other cultures. These childhood stories may have been created to deter people from certain things. In the last segment of the workshop, Allia Tabassum explained the different aspects and types of stories, followed by participants writing and sharing the opening to their chosen childhood story, rewritten in their own words.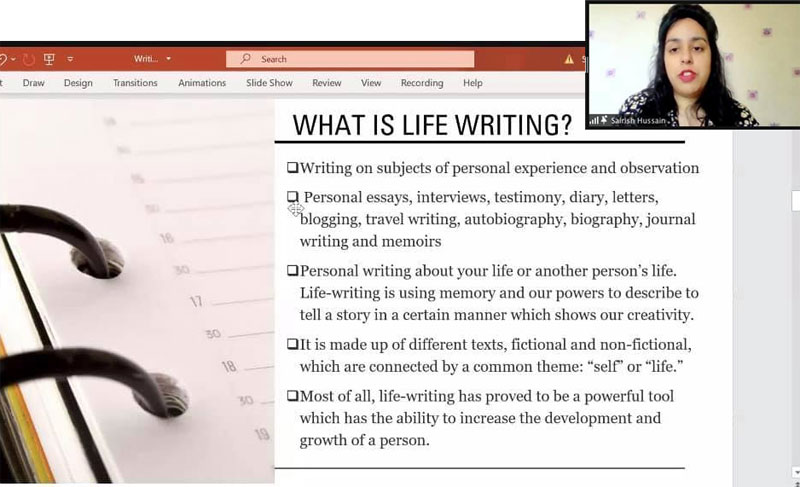 Sairish Hussain facilitated the 'Life-Writing' workshop which was hosted by Sister Atikah Parveen (Al-Tazkiya 2021 – Technical Lead). Sairish Hussain is a successful Bradford based author. She began with a free-writing activity which consisted of being shown an object and then writing spontaneously. This technique allows the sub-conscious take over, this liberates creativity and we can edit the writing later. We then moved onto life-writing which was more personal and consisted of using our memories to write a story. We created multi-dimensional characters based on our own experiences. Throughout this we learned how to use our different senses to make a piece of writing come to life.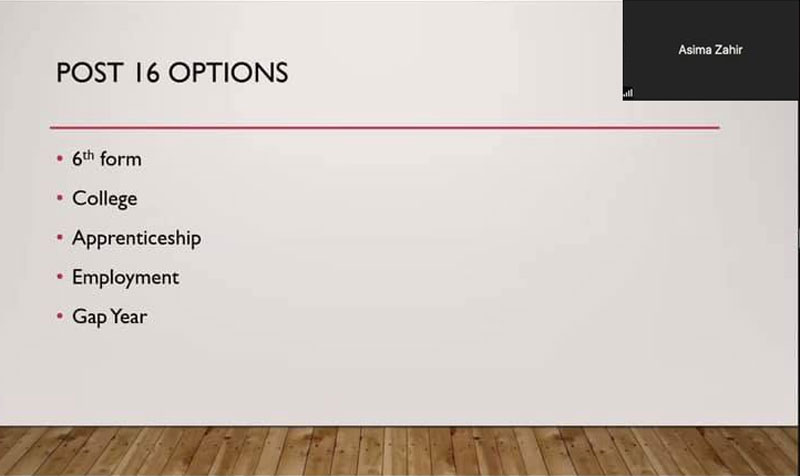 Asima Zahir facilitated the 'Post-16 – Where Careers Begin' workshop which was hosted by Sister Baasimah Batool (Deputy General Secretary of Minhaj Sisters UK). Asima is a professional in employment skills and recruitment. The session began with a presentation explaining the variety of opportunities available Post-16 such as college, sixth form or apprenticeships. Asima continued to give careers advice explaining that it is important to have Muslim representation in different settings such as hospitals or as a teacher. She gave encouragement to the young audience, that we all have skillsets that we should be mindful of when choosing our future careers. And it is important to have a future goal in mind so we can make the appropriate steps towards it. The session ended with Asima providing advice to individual young sisters in the audience who were ready to choose their next steps.