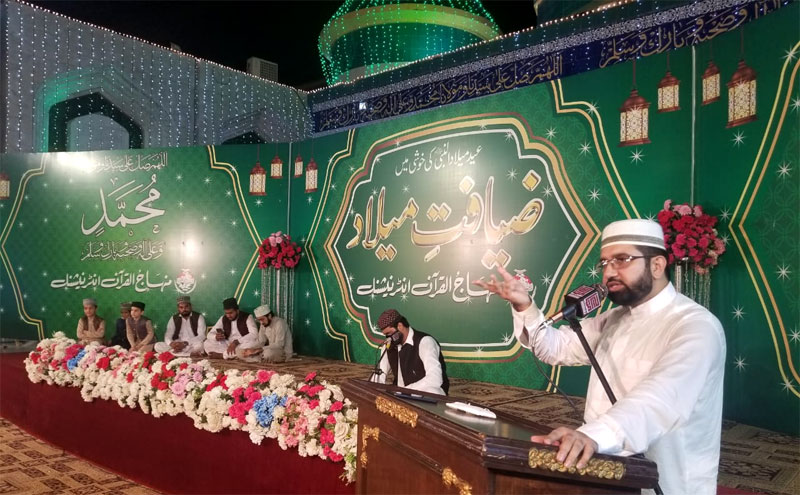 Like the practice of the past years, the Milad feasts and Milad gatherings are taking place at the central secretariat, starting with the first of Rabi-ul-Awwal until the 12th. Renowned religious scholar and director Minhaj Education Society, Ali Waqar Qadri spoke on the subject of 'love of the Holy Prophet (pbuh)'
In his speech, he said that love of the Holy Prophet (pbuh) is the basis as well as the essence of our faith. He recalled Hadith in which the Holy Prophet (pbuh) said: none of you cannot become a believer unless he (pbuh) becomes dearer to them than their own children, and parents.
Ali Waqar Qadri said that MQI is spreading the culture of reverence and love of the Holy Prophet (pbuh) by celebrating the holy month of Rabi-ul-Awwal with religious fervor. He said that Shaykh-ul-Islam Dr Muhammad Tahir-ul-Qadri has enlightened the hearts of the youth around the world with the love of the Holy Prophet (pbuh), adding that Allah Almighty has enabled MQI to highlight various aspects of Seerat-un-Nabi (pbuh) during the current century. He welcomed the federal government's decision to officially celebrate the first 12 days of the holy month of Rabi-ul-Awwal. He said that if those at the helm of affairs want Pakistan to become a peaceful and prosperous country, then they should make sure that the educational curriculum is not devoid of the teachings of the Holy Prophet (pbuh).
Director Foreign Affairs GM Malik made Dua at the end of the ceremony. The participants of the Milad gathering prayed to Allah Almighty to raise the ranks of Dr Abdul Qadeer Khan. Director Administration MQI Jawwad Hamid, Ain-ul-Haq Baghdadi, Dr Muhammad Yaqub and other leaders were present on the occasion.