They pay rich tributes to Shaykh-ul-Islam Dr Muhammad Tahir-ul-Qadri for promoting Islamic message of peace, love & interfaith harmony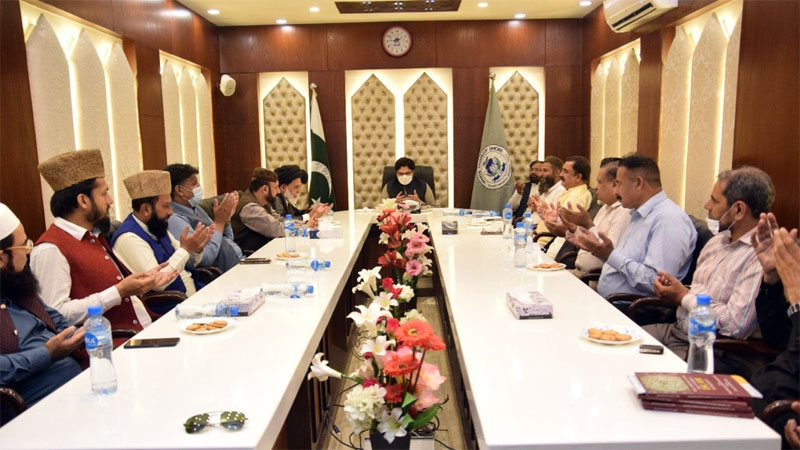 A delegation of renowned religious scholars from various schools of thought called on Dr. Hussain Mohi-ud-Din Qadri, President MQI, to share a day of spiritual significance, the jubilance of Eid Milad-un-Nabi, and to pay homage to the Holy Prophet (PBUH) on October 20, 2021.
The meeting was coordinated and arranged by Mr. Sohail Raza, Director MQI Interfaith Relations. Speaking on the occasion, Dr. Hussain Mohi-ud-Din Qadri said that the life of the Holy Prophet (PBUH) is an example of excellence for every person of this world who believes in Allah and the Day of Judgment. He said that this source of light and guidance can lead us to success not only in this world but also in the hereafter.
Dr Hussain Mohi-ud-Din Qadri said that the Holy Prophet (SAW) is an embodiment of mercy for the whole mankind. He (PBUH) brought about a revolution in the lives of people. This revolution, he said, is unprecedented in the history of mankind. He said that our love for the Prophet (PBUH) involves not only devotion and passion for him but also the following of his noble example. He added that the Holy Quran and Sunnah are the basis of our religion. The doctrines of Islam have no room for hatred, prejudice or aggression against the followers of other religions, Dr Hussain emphasized.
The delegates expressed their views on the occasion and said that Shaykh-ul-Islam Dr Muhammad Tahir-ul-Qadri has written scholarly books and delivered historic lectures on the blessed life of the Holy Prophet (PBUH), which are a great source of knowledge for the present and future generations. They lauded Dr Tahir-ul-Qadri for promoting religious tolerance, peace, love and respect for religions in his writings and speeches at the international level.
The delegation congratulated Dr. Hussain Mohi-ud-Din Qadri on the magnificent success of the International Mawlid-un-Nabi Conference held at Minar-e-Pakistan. At the end of the meeting, a cake was cut to mark the celebration of the birth anniversary of the Holy Prophet (PBUH) and special prayers were offered for the unity of the Muslim Ummah and the promotion of inter-religious harmony.
The delegation included Ch. Muhammad Sultan, Secretary ARWA Foundation Punjab, Maulana Asim Makhdoom, Allama Sibtain Haider Rizvi, Allama Qasim Ali Qasmi, Chaudhry Arshad Gujjar, Allama Hafiz Kazim Raza Naqvi, Allama Baba Muhammad Shafiq Butt, Allama Qari Khalid Mahmood, Prof Syed Mahmood Ghaznavi, and Allama Muhammad Hussain Golravi.