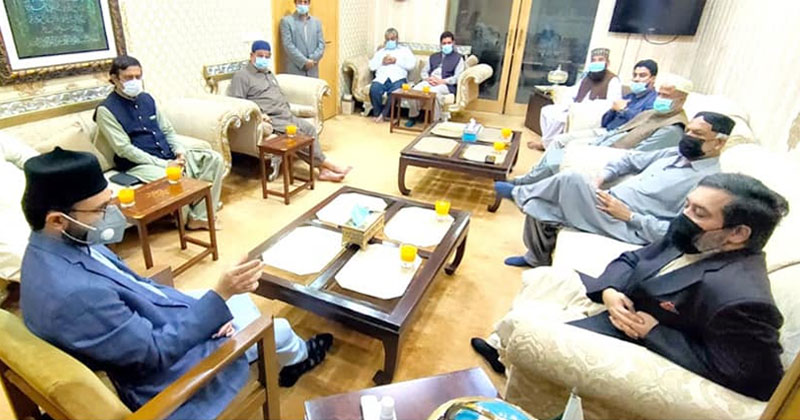 Pir Sayyid Usman Mustafa Shah Rashidi, son of Pir Pagara Sayyid Sibghatullah Shah Rashidi and Pir Dr Sayyid Mehdi Raza Shah Sabzwari, Sajjad-e-Nasheen of Hazrat Lal Shahbaz Qalandar, Sehwan Sharif, called on Chairman Supreme Council Dr Hassan Mohi-ud-Din Qadri at his residence and got the life membership of Minhaj-ul-Quran International (MQI).
Dr Hassan Mohi-ud-Din Qadri congratulated both the guests on becoming life members of Minhaj-ul-Quran International (MQI). Makhdoom Nadeem Ahmad Hashmi, Amir-e-Tehreek Sindh, Pir Sayyid Shah Muhammad Shah Lakyari, Sajjad-e-Nasheen Dargah Lakki Shah, Mufti Abdul Hafeez Khoro, Sayyid Muhammad Owais Naqvi, and Mumtaz Raza Siyal were also present on the occasion.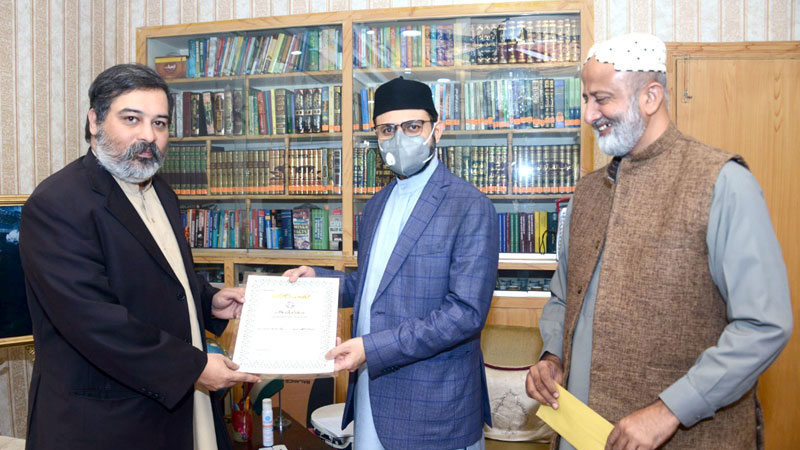 Speaking on the occasion, Pir Sayyid Usman Mustafa Shah Rashidi appreciated Shaykh-ul-Islam Dr Muhammad Tahir-ul-Qadri for the services and contributions to the cause of Islam, not only here in Pakistan but also abroad. He said that persuading the youth to learn about Islam is a great national and religious service in the present age. He said that Dr Qadri is a leading authority on Islam in the contemporary age and we are proud of his contributions in various fields.
In his talk on the occasion, Dr Hassan Mohi-ud-Din Qadri said that the Sufi-saints have taught us to love humanity without any discrimination of caste, creed and colour. He said that pilgrimage to the shrines of the blessed and chosen people of Allah provide an impetus for the adoption of piety, purification and character-building.
The delegation from Sindh consisting of honorable Pirs, religious scholars and Mashaykh visited the central secretariat of MQI and met with MQI Secretary General Khurram Nawaz Gandapur in his office. The delegates also visited Directorate of Foreign Affairs and Jamy Shaykh-ul-Islam where they were briefed by GM Malik about the working of the Directorate.