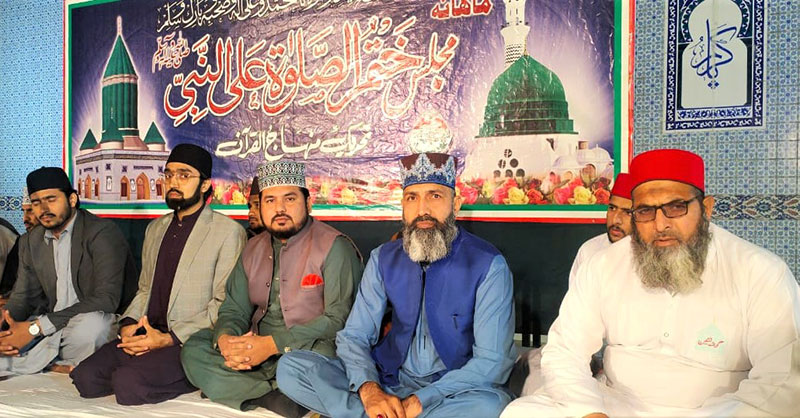 The monthly spiritual gathering was held at the central secretariat of MQI. Durood, greetings and salutations to the tune of 20 billion were presented in the court of the beloved Prophet (pbuh). The proceedings of the ceremony got underway with the recitation of the Holy Quran followed by Naat recitations that Obaidullah Chishti, Zainul Abidin Wattoo, Syed Ali Hasnain Shah, Hafiz Aqeel Ahmad Qadri and others had the honour to present.
Muhammad Sanaullah Tahir of Minhaj Internet Bureau introduced Gosh-e-Durood mobile application in the ceremony. He said that MIB has launched the mobile application through which the users of the app can make an online entry of durood offered individually, and collectively from anywhere in Pakistan as well as abroad. He further informed the participants that the application has various features such as Asmaul Husna, Asma-un-Nabi (pbuh), matters of Namaz, commandments regarding Hajj and Umrah, blessings of Durood etc.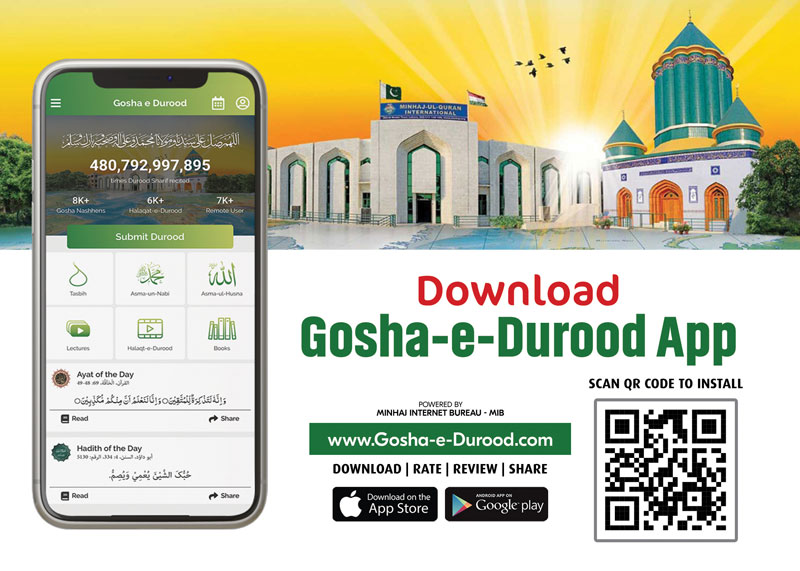 In addition to the organizers of Gosha-e-Durood, and office-bearers of Directorates of Dawah, Trainng and MQI Lahore, those who attended the ceremony included Allama Rana Muhammad Idrees, Syed Mosharraf Ali Shah, Noorullah Siddiqui, Jawwad Hamid, Prof Saleem Ahmad Chaudhry, Allama Rana Nafees Hussain Qadri, Sohail Ahmad Raza, Allama Ghulam Murtaza Alvi, Abdul Sattar Minhajian, Allama Minhaj-ud-Din, Allama Hassan Jamati, Ahmad Waheed, Tayyab Zia, Qari Riasat Ali, Sidra Karamat, Umme Habiba Ismail.
Speaking at the ceremony, Allama Rana Muhammad Idrees said that Durood is one of Allah's blessings that entail huge and enriching rewards in its wake. He said it is such amazing wealth that can make one successful not only in this world but also in the hereafter. He said that Durood is the means through which one can get closer to the beloved Prophet (pbuh) of Allah, stating that love for the person of the Holy Prophet (pbuh) is an integral part of our faith. He said that recitation of durood, greetings and salutations on Allah's last Prophet (pbuh) is a sign of our deep devotion and love for him (pbuh).
Amir of MQI Lahore Allama Rana Nafees Hussain Qadri made Dua for peace and progress of Pakistan and its people at the end of the ceremony.