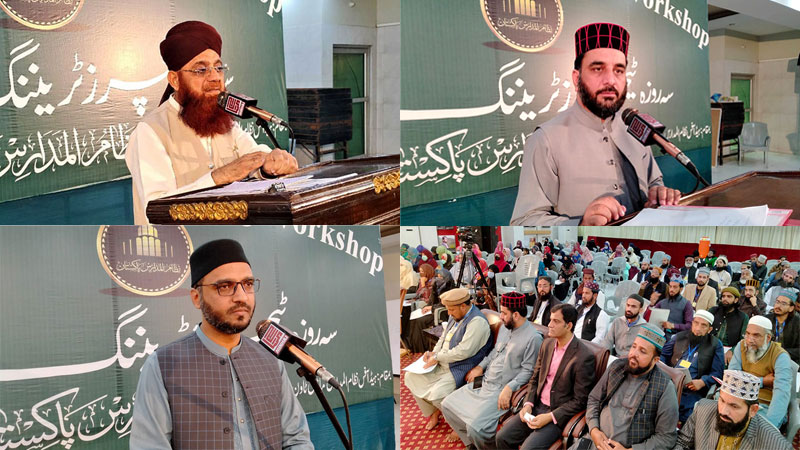 The unjust killing of a human being is one of the most heinous and major crimes. The Holy Prophet (PBUH) said that the judgment about the bloodletting will be the first one to be delivered among the people on the Day of Reckoning. The elimination of the whole world is a lesser crime in the sight of Allah compared to unjust killing of a person. Putting an end to the incidents such as the one that happened in Sialkot and eradicating the extremist and violent attitudes is the responsibility of every Muslim in general and that of religious scholars, and teachers in particular.
Religious scholars, academicians, and educational experts made these remarks while delivering their lectures on the second day of the three-day Training Workshop held under the banner of Nizam-ul-Madaris Pakistan.
Those who gave their talks at the workshop included Director FMRi Allama Muhammad Farooq Rana, Nazim-e-Aala Nizam-ul-Madaris Allama Mir Asif Akbar, Syed Abdur Rahman Bukhari, Dr Shafqat Ali Baghdadi, Dr Faizullah Baghdadi, motivational speaker Izhar-ul-Haq, master trainer Imran Bhatti, Allama Ghulam Murtaza Alvi, and Allama Ain-ul-Haq Baghdadi. These scholars spoke on the topics of qualities of a teacher, institutional stability, and riddance from violent and extremist attitudes, morality, the art of public speaking and rules and regulations of Arabic language.
In his lecture, Muhammad Farooq Rana said that there is an agreement between Imams and Hadith scholars that those who takes the life of an innocent person will go to hell and they would get no clemency. He said there is a Quranic injunction that asks people not to kill those whose killing has been forbidden by Allah Almighty. He further said that the challenges of extremism and intolerance can be overcome by aligning the educational system with the contemporary requirements.
Director FMRi referred to Shaykh-ul-Islam's book on peace-building and said that loving humanity and being excellent in one's conduct and attitudes towards others is the Sunnah of the Holy Prophet (PBUH) and Allah. He said that Islamic teachings are clear about extending a similar behavior of respect and compassion towards others irrespective of their creed and colour. He said the identity of a Muslim and believer is that he is embodiment of love and brotherhood.
Motivational speaker Izhar-ul-Haq said in his talk that a recent study conducted in Harvard University has found out that the nations that value time have moderate attitudes and that they believe in hard work and are just and responsible in their actions and interactions. He said that the study establishes that the societies that are backward are bereft of these civilized attitudes.
Dr Shafqatullah Baghdadi said in his lecture that questions are being raised about the Islamic teachings due to the deepening extremist and intolerant behaviors in society. He said that Islam is a religion of peace and love, adding that those who take law in their hands and spread mayhem and chaos have nothing to do with the teachings of Islam.
A large number of female teachers and managers of religious seminaries are attending the three-day workshop.