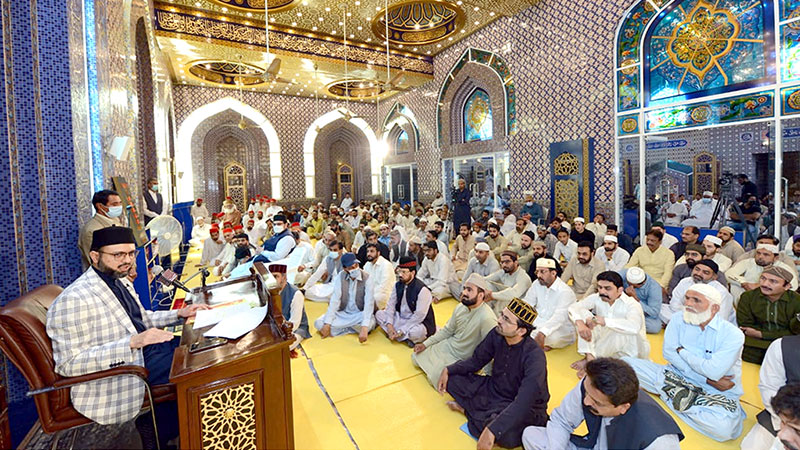 Addressing a large Friday prayer gathering in Jamy Shaykh-ul-Islam, Chairman MQI Supreme Council Dr Hassan Mohi-ud-Din Qadri has said that the last ten days of Ramazan, which represent forgiveness, have started. He said that it is with Allah's blessing that one develops the thought of seeking penance. He said that Allah forgives those who seek His forgiveness in all humility and truthfulness. He said that only a few days are left until the end of the holy month of Ramazan, stating that we should spend these precious moments in remembrance of Allah Almighty and His Prophet (PBUH). He asked the people to seek Allah's forgiveness and save themselves from the fire of hell through good deeds.
Chairman Supreme Council welcomed the thousands of people who had reached Jamy Al-Minhaj, Baghdad Town, to become part of Itikaf City. He said that devoting oneself to winning the pleasure of Allah and His beloved Prophet (PUBH) is a matter of great blessing. He said that Shaykh-ul-Islam Dr Muhammad Tahir-ul-Qadri will deliver his keynote lectures on the ailments of heart and the ways and means to purify it. He said that MQI's Itikaf City has become a great seat of learning for the faithful in their efforts for the reform of the inner self. He said that those who have been becoming part of this great City during the last ten days of Itikaf have benefited greatly from the spiritual, educational activities. He said that Itikaf is a way of introspection and a great worship in its own right. He said that a large number of people from all parts of Pakistan have joined Itikaf this year as well.
Dr Hassan Mohi-ud-Din Qadri directed the organizers of Itikaf City, Minhaj-ul-Quran Ulama Council, and Directorate of Dawah and Training to not leave any stone unturned in imparting lessons to the residents of Itikaf City. He said that their education, spiritual training and the matters related to worship are foremost for us and no negligence should be shown in this regard. He said that Shaykh-ul-Islam Dr Muhammad Tahir-ul-Qadri has provided an amazing platform in the form of MQI that is playing its vital role in the character-building of the youth, educating them about real teachings of Islam in this era of mischief and intellectual discord.