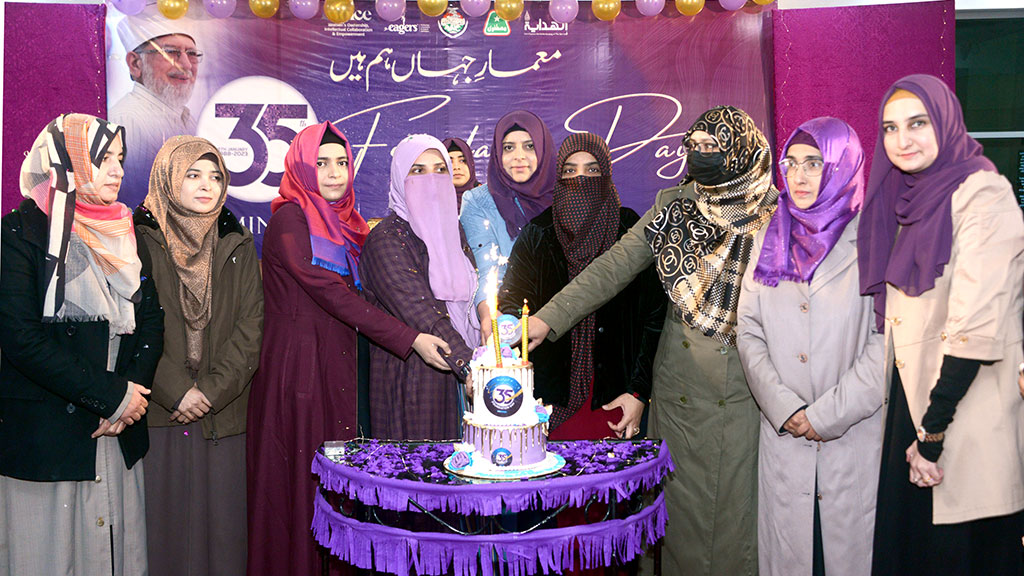 The 35th foundation day of Minhaj-ul-Quran Women League was celebrated across Pakistan as well as in MQI centers abroad with traditional fervor. The ceremonies including seminars and workshops were held in the various cities under the title of "we are the architects of the world."
The central foundation-day ceremony was held at the central secretariat which was attended by a large number of women belonging to the various walks of life. Addressing the ceremony, central President MWL Dr Farah Naz said that Shaykh-ul-Islam Dr Muhammad Tahir-ul-Qadri founded MWL 35 years ago to provide women a platform to enable them to play their role in spreading the Islamic message of peace, love and harmony in the society. Talking about the services of MWL, she said that there is no department in which the women affiliated with MWL have not played their part in terms of character building and spreading positivity in society.
Senior MWL leader Sidra Karamat, while addressing the ceremony, said that the struggle of MWL is for empowerment of women and to raise awareness about their rights in society. She said that true empowerment happens when women are equipped with education and life skills to live a meaningful life. She presented a resolution in the ceremony which vowed to double down on the efforts for the spread of education among the womenfolk and no stone would be left unturned in this regard.
Ms. Umme Habiba Ismail presented a welcome note in which she thanked all the participants for making time to attend the ceremony. She also threw light on the major contributions of MWL over the last 35 years in the different fields of life. Ayesha Mobashar, representing the overseas chapters of MWL, presented their performance report in the foundation-day ceremony.
Those present on the occasion included Fareeda Sajjad, Fahneeqa Nadeem, Dr Javeria Hassan, Naureen Alvi, Shazia Butt, Naseem Bulzar, Shamim Khan, Asia Asif. Dr Shazia Rana, Rabia Arooj, Saiqa Shaheen, and Mozzama Ghafoor attended the foundation-day ceremony via zoom as representatives of Europe, Australia, UK and Canada.