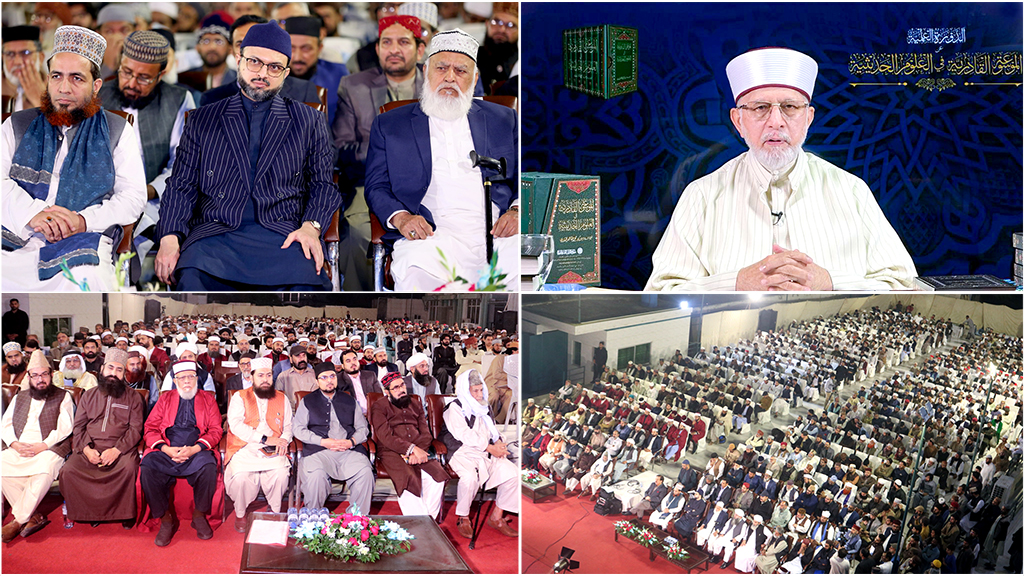 Shaykh-ul-Islam Dr Muhammad Tahir-ul-Qadri addressed a scholarly session of "الدَّوْرَةُ الْعِلْمِيَّةِ عَنِ الْمَوْسُوعَةِ الْقَادِرِيَّةِ فِي الْعُلُومِ الْحَدِيثِيَّة". Chairman MQI Supreme Council Dr Hassan Mohi-ud-Din Qadri, President MQI Prof Dr Hussain Mohi-ud-Din Qadri, Khurram Nawaz Gandapur, Allama Syed Ziaullah Shah Bukhari and other leading religious scholars participated in the sitting.
Speaking on the occasion, Dr Tahir-ul-Qadri said that only that belief-system will stay intact and survive the onslaught, which will be deeply rooted in the Book and Sunnah. He said those beliefs that do not have a strong bond with research and knowledge will be eliminated. He said that Imam-e-Azam Abu Hanifa (RA) is among the founders of the science of the Principles of Hadith followed by Imam Shafi'i (RA). He said that Imam Bukhari (RA) and Imam Muslim (RA) have their high stature in the field of Hadith sciences and it is for this reason that their books are "صحیحین".
Shaykh-ul-Islam said that it was the companions of the Holy Prophet (peace be upon him) who laid down the rules and regulations of Hadith sciences during the period of the rightly guided Caliphs. "The origin of Hadith studies lies in the blessed era of the Holy Prophet (peace be upon him). The denial of the authenticity of Hadith can put one on the path of infidelity," he said. He said that the Holy Quran comes first in the sequence of commandments followed by Hadith but in terms of their contention, they are of equal status.
Dr Muhammad Tahir-ul-Qadri said that there are 82 places in the Holy Quran where Allah Almighty has associated His Name with that of the Holy Prophet (peace be upon him). He said that the text of the Holy Book is the Quran, while its genesis is Hadith. He said the way the Holy Quran was revealed, Hadith was also revealed in the same manner.
Dr Qadri said that in an instance of differences, the authenticity of Hadith will be determined by the chain of narration, not the books, adding that Imam Abu Hanifa (RA) is a grand-teacher to Imam Bukhari (RA) in terms of time-period. He said that 80 percent of what Imam Bukhari (RA) reported has been referred to the students of Imam-e-Azam. He said there are many kinds of Hadith, stating that rejecting a Hadith by assigning it the title of being 'weak' (Za'eef) represents mischief. He said that the 'weakness' of Hadith is determined on the basis of chain of narration in the same way as the authenticity of Hadith is.
Shaykh-ul-Islam said that during the process of compiling Sahih Bukhari, Imam Bukhari (RA) had laid down the principle that all traditions to be included in the book would be 'Sahih Hadith'. He said if other books of Imam Bukhari (RA) are explored, it would be known that taking up 'weak' Hadith is alright. He said that 'Khawarij', and Mau'tazala are said to be innovators; adding that Imam Bukhari (RA) narrated about 80 Hadith with their reference.
Addressing the ceremony, Ameer Mutahidda Jummiat Ahl-e-Hadith Allama Ziaullah Shah Bukhari said that the rejection or denial of Hadith is a major mischief in this day and age. He said that Shaykh-ul-Islam Dr Tahir-ul-Qadri has done a spectacular work on Hadith and thus played a leading role in curbing this mischief. He said that correct understanding of Islam is not possible without Seerat-un-Nabi (PBUH) and the prophetic traditions.
Dr Asif Akbar Mir told the ceremony that hundreds of religious scholars belonging to 13 seminaries were part of the scholarly sitting via zoom link. Dr Mumtaz ul Hassan Barvi said that Dr Tahir-ul-Qadri's research work on the principles of Hadith has been compiled into an Encyclopedia of Hadith Studies consisting of eight volumes. Allama Ain-ul-Haq Baghdadi conducted the proceedings of the ceremony, whereas it was with the recitation of the verses from the Holy Quran by Qari Khalid Hamid Kazmi that the event began.
The prominent scholars who attended the meeting were Mufti Abdul Qayyum Hazarvi, Mufti Muhammad Ramzan Sialvi, Allama Dr Sadaqat Ali Faridi, Mufti Imdadullah Qadri, Allama Shahzad Ahmad Mujadadi, Mufti Muhammad Hanif Chishti, Mufti Muhammad Shabbir Anjum Qadri, Dr Mufti Muhammad Kareem Khan, Mufti Irfanullah Ashrafi, Mufti Khalil Ahmad Qadri, Allama Riaz Ahmad, Mufti Shahzad Ahmad Sajjad, Dr Naeem Anwar Naumani, Dr Mumtaz ul Hassan Barvi, Allama Syed Ali Ahmad Mash'hadi, Mufti Muhammad Zaman Ayazi, Mufti Ghulam Asghar Siddiqui, Allama Mir Asif Akbar, Prof Nawaz Zafar, Prof Dr Muhammad Akram Rana, Dr Shafaqat Ali Baghdadi, GM Malik, Noorullah Siddiqui, Muhammad Farooq Rana, Allama Muhammad Idrees Rana, Engineer Muhammad Rafique Najam, Raja Zahid Mahmood, Jawwad Hamid, Ishtiaq Chaudhry Advocate, Mazhar Mahmood Alvi, Allama Ain-ul-Haq Baghdadi and others.