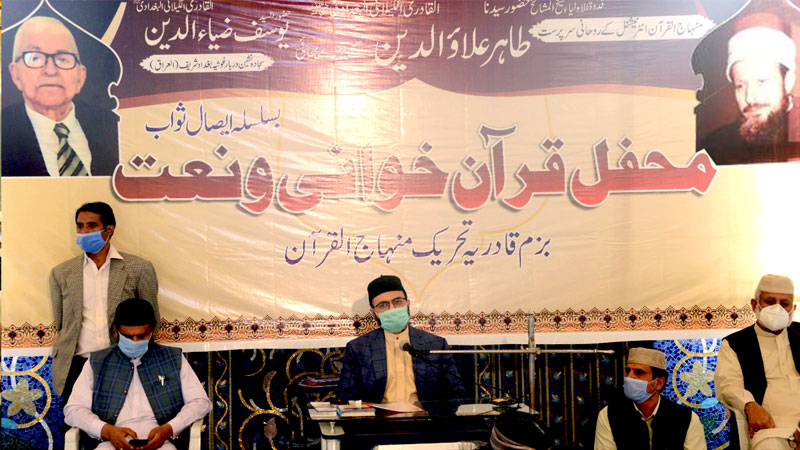 A prayer ceremony was held for Sayyid Yusuf Zai-ud-Din al-Qadri al-Gilani al-Baghdadi, the elder brother of Qudwat-ul-Awliya Sayyiduna Tahir Ala-ud-Din al-Qadri, al-Gilani, al-Baghdadi, who breathed his last in Baghdad the other day. Rich tributes were paid to late Sayyid Yusuf Zia-ud-Din al-Qadri al-Gilani for his spiritual and religious services.
Addressing the ceremony, Chairman MQI Supreme Council Dr Hassan Mohi-ud-Din Qadri said that the death of Sayyid Yusuf Zia-ud-Din al-Qadri al-Gilani has left the MQI workers, associates, and leaders grieving. He said that the death of the elder brother of Huzoor Pir sahib is a great loss not only to the family but also to the world of Islam that has been deprived of a great personality. He said that Sayyid Yusuf Zai-ud-Din dedicated his whole life to the service of religion, the promotion of good and reform of the people.
The proceedings of the prayer ceremony got underway with the recitation of the Holy Quran by Sayyid Khalid Hameed Kazi followed by Naat that Muhammad Atif Qadri and Ghulam Farid Chishti had the honour to recite. Acting Secretary General MQI GM Malik, Sayyid Altaf Hussain Gilani, Sayyid Musharraf Ali Shah, Raja Zahid Mahmood, Haji Manzoor Hussain Qadri, Shahzad Rasool Qadri, Haji Muhammad Ishaq, Jawad Hamid, Hafiz Abid Bashir Qadri and Dr Mumtaz-ul-Hassan Barvi attended the ceremony.