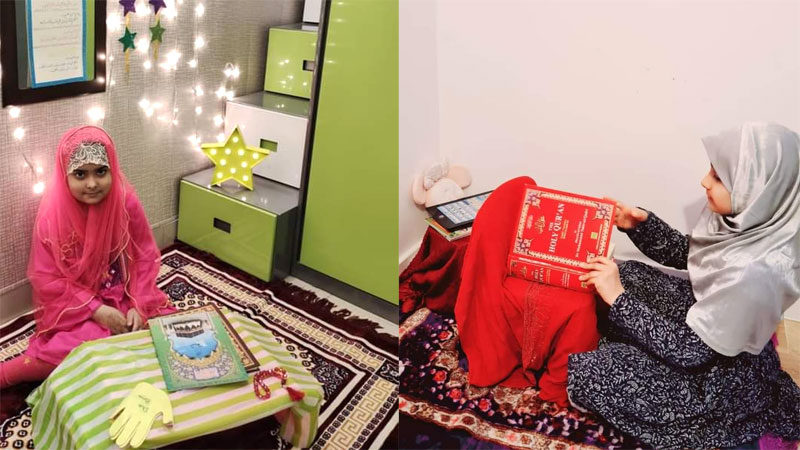 Adab "ادب" is the most valuable asset that we can gift to our new generations. This year Eagers Nafli Itikaf (Online) has been designed on the theme that revolves around Adab. Deriving the contents from the charter of Ethics based upon the advice of Hazrat Luqman (A.S) to his son. Along with these, many other segments like Nasheed & Qiraat recitation, Quranic stories, individual wazaif, daily schedule and much more are offered to little Mutakifeen!
700 children are participating in this Nafli Itikaf from not only Pakistan but from other countries like Australia, Bahrain, UK, Italy, Canada, India, Turkey, Birmingham and Saudi Arabia, Oman and UAE. Children have decorated their Itikaf corners and started the spiritual journey of Nafli Itikaf yesterday. Children are very excited and spiritually motivated for this virtual Itikaf City. They are reserving corners in their homes and decorating it with great enthusiasm and energy which is creating a beautiful spiritual environment.
Furthermore the point is to support youngsters' ethical preparation, Islamic teachings, habits and individual certainty and developing a deep connection with Allah Almighty and His Prophet Muhammad (pbuh).
The Eagers team is very appreciative of those working by 24/7 to contribute in this spiritual journey under the supervision of Miss Umm-e-Habiba Ismail and execution by Director Eagers, Aimen Yousaf, Director Field & Training Miss Umm-e-Kulsoom along with other team members.
Ethics class is held to upgrade children's knowledge and impart moral training. Sir Rashid Hameed Kilyami, Miss Umm-e-Kulsoom, Miss Unzila Malik, and Miss Hussan Ara made important contributions to the successful holding of the Itikaf. To create love for the Quran in children, Miss Rabiya Nasir, Miss Ayesha Mubashir, Sir Allama Mahmood Masood, Miss Sadia Ahmed, and Miss Wisha Waheed's work have done fantastic work.