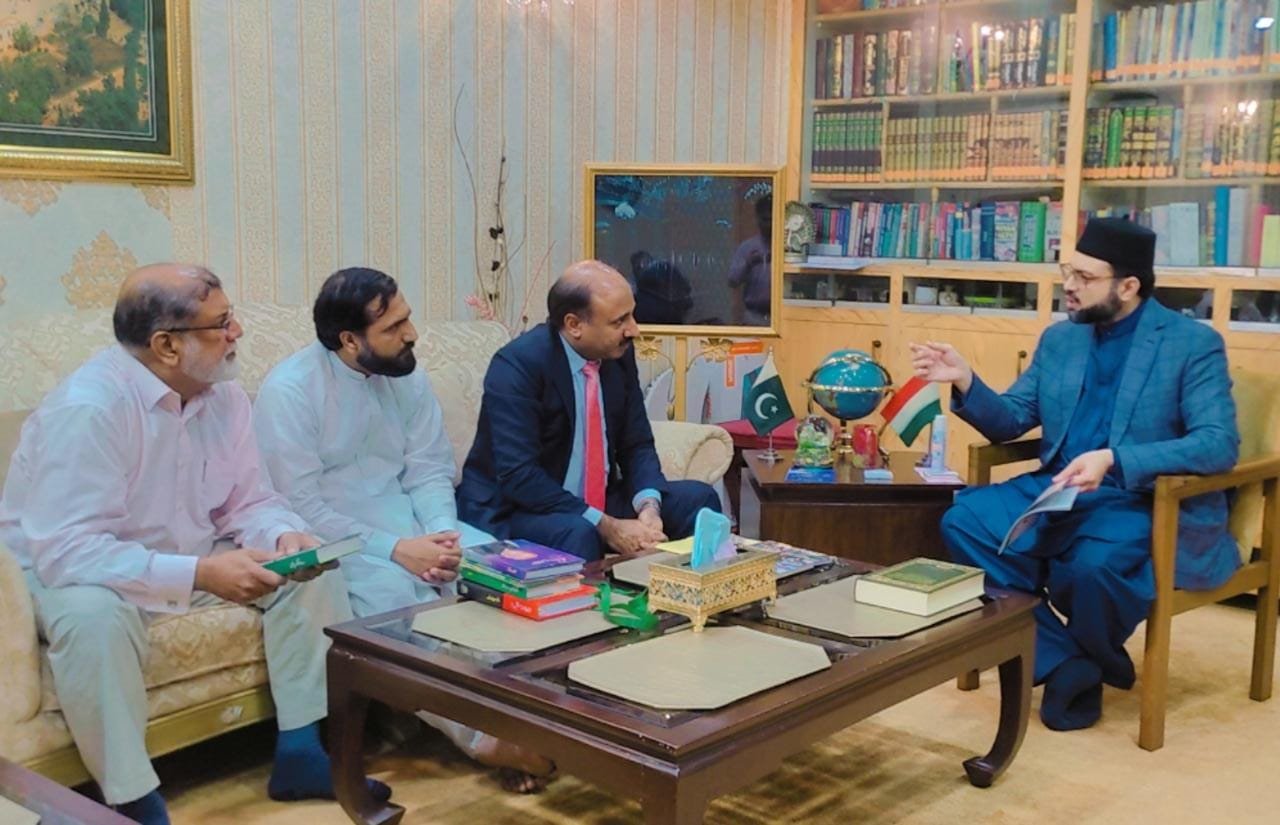 On the invitation of the MQI Public Relations Department, a delegation of the Nazria-e-Pakistan Trust office-holders led by Secretary Naheed Imran Gull, the Secretary of the Trust visited the MQI secretariat. They met with Chairman MQI Supreme Council Dr Hassan Mohi-ud-Din Qadri and also invited the students studying at Minhaj University Lahore to join their Pakistan Aware Program. The delegation also extended an invitation to Dr Hassan Mohi-ud-Din Qadri for a visit to the offices of the Trust and Aiwan-e-Workers Pakistan.
Naheed Imran Gull told Chairman MQI Supreme Council that the Nazria-e-Pakistan Trust has always valued the contributions and sacrifices of Pakistanis that they rendered during the freedom struggle. They said that the Trust is playing a practical role in the realization of the goals of the country, adding that the reins of the organization are in the hands of the country's leading intellectuals. They said that making the youth of today aware of Pakistan's founders is one of the leading aims and objectives of the organization.
The delegates paid rich tributes to Shaykh-ul-Islam Dr Muhammad Tahir-ul-Qadri for his contributions in the fields of global peace, interfaith harmony and interfaith dialogue. They said that his teachings are for the future that will continue to guide our youth.
While speaking on the occasion, Chairman MQI Supreme Council Dr Hassan Mohi-ud-Din Qadri applauded the services of Nazria-e-Pakistan Trust for the promotion of Pakistan's ideology. He said that the thought and ideology of the Quaid-i-Azam and Allama Dr Muhammad Iqbal are important for the intellectual and moral training and education of our youth. He said that we have to expose our youth to the thinking and ideals that can create in them a realization of their lives' objective. He said that our youth needs to be equipped with the ideas and concepts about their role which is so critical for national development.
Dr Hassan Mohi-ud-Din Qadri said that the nations are not built in a day, adding that the process of nation-building takes ages. He said that teachers, parents and the educational institution have a duty cut out for them in this regard, stating that it is only then that a confident and self-respecting nation will come into being.
The visiting delegation included Additional Secretary Nazria-e-Pakistan Trust Saifullah Chaudhry, Director Publications Naeem Ahmad, and Deputy Secretary Nauman Ahmad. Director FMRI Muhammad Farooq Rana, Director Public Relations Shahzad Rasool Chaudhry, Haji Muhammad Ishaq, and Abdul Hafeez Chaudhry were also present on the occasion.
The delegation also visited Jamy Shaykh-ul-Islam, Gosha-e-Durood and Farid-i-Millat Research Institute.