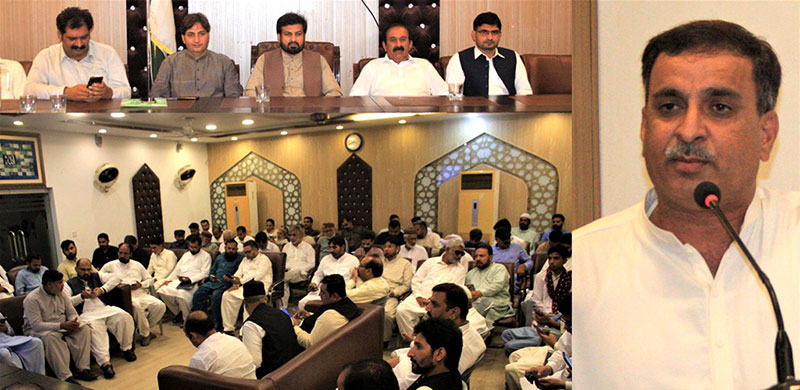 A meeting of PAT Central Punjab held at the secretariat in the Model Town has demanded of the PTI-led Punjab government to fast-track the proceedings in the stalled investigation of the Model Town tragedy case. It asked the government to withdraw the fake and bogus FIRs registered against the PAT and MQI workers at the behest of the past rulers and remove the accused police officers from their positions till the decision of the case.
The meeting also decided to celebrate Pakistan Day with traditional zeal and zest, including the holding of rallies, processions and seminars. The purpose of such events is to highlight the objectives of the Pakistan Movement. The participants also paid rich tributes to Hazrat Imam Hussain (AS) and the Prophet's Household for their heroic sacrifices for the cause of Islam. They expressed the resolve to learn lessons from the blessed life of the Imam Hussain (AS) and follow his teachings.
The meeting also expressed its unwavering solidarity with the people of occupied Jammu & Kashmir and demanded of the international community to play its role in getting India to stop the worst human rights abuses. It also appealed to the Islamic world to extend moral, diplomatic and political support to the Kashmiris in their struggle for right to self-determination.
The participants of the meeting also decided to hold workers conventions in Punjab after Moharram and to speed up the membership and reorganization drive of the party. They also adopted a resolution on the occasion in which they impressed upon the government to provide relief to the people in the prices of petroleum products in line with the ratio of their decrease in the international market. They also asked for withdrawing fixed tax from the electricity bills and strongly condemned the failed economic policies of Finance Minister Miftah Ismail. They demanded his resignation.
Addressing the meeting, PAT Central Punjab President Mian Rehan Maqbool said that PAT will take active part in the upcoming local bodies and general elections. The meeting was attended by Raja Zahid Mahmood, Malik Karamat Ali, Qari Mazhar Farid, Mian Kashif Mahmood, Ch Afzal Warraich, Asif Ali Gujjar, Abdul Kareem Kamayna, Asif Sulehria Advocate, Malik Farooq Ahmad, Ahmad Akhwan and others.