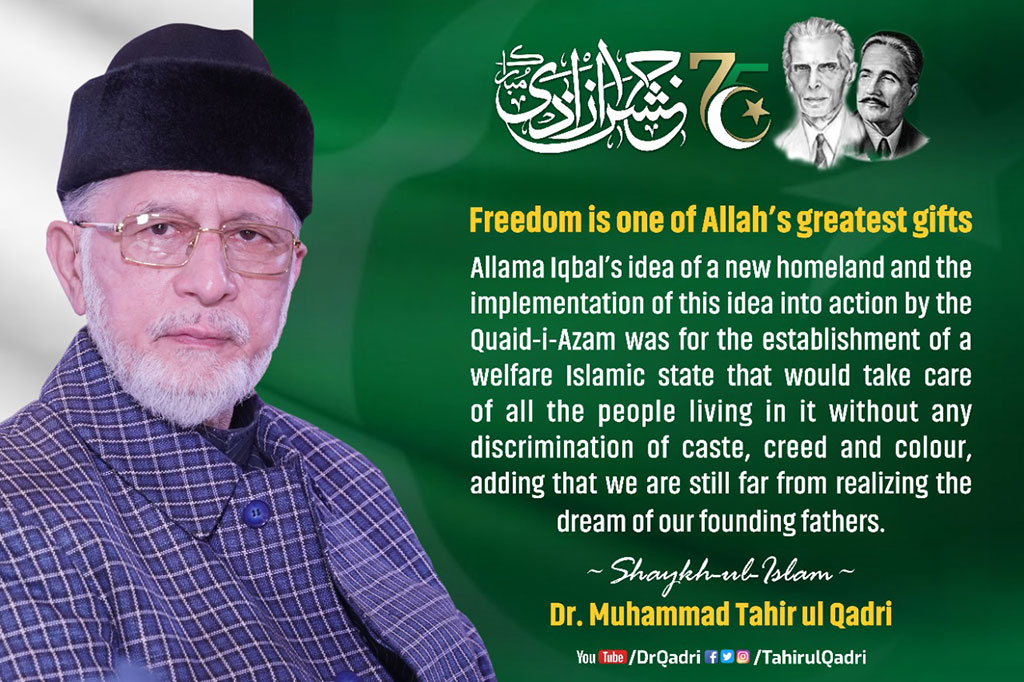 MQI founding leader Shaykh-ul-Islam Dr Muhammad Tahir-ul-Qadri has congratulated the people of Pakistan including overseas Pakistanis on the 75th Independence Day of the country.
In a special message on the occasion, Dr Tahir-ul-Qadri said that freedom is one of the most precious gifts of Allah. He asked the people to close ranks and rise above their divisions to celebrate the gift of freedom and vow to preserve it. He said that Allama Iqbal's idea of a new homeland and the implementation of this idea into action by the Quaid-i-Azam was for the establishment of a welfare Islamic state that would take care of all the people living in it without any discrimination of caste, creed and colour, adding that we are still far from realizing the dream of our founding fathers.
Dr Tahir-ul-Qadri referred to a speech of the Quaid-i-Azam that he delivered to the central assembly on November 19, 1940 in which he said that the struggle of All-India Muslim League is not for Muslims alone. It is for every community, as we consider the protection of the rights of the minorities our central duty. Nothing is more demeaning than leaving oneself at the mercy of others. If Muslims adopt this policy, it will be counterproductive. There is one thing that can save them and it is a struggle to regain their lost honour and prestige.
MQI leader said that Pakistan came into being as a result of countless sacrifices. He said that we should tell our younger generations about the struggle of Pakistan so that they know how our motherland came into being against the heavy odds. He said that Independence Day is also a time for self-accountability with an open mind. He said that only those nations can advance in the comity of nations that subject themselves to constant audit vis-à-vis the ideals for which they were created.