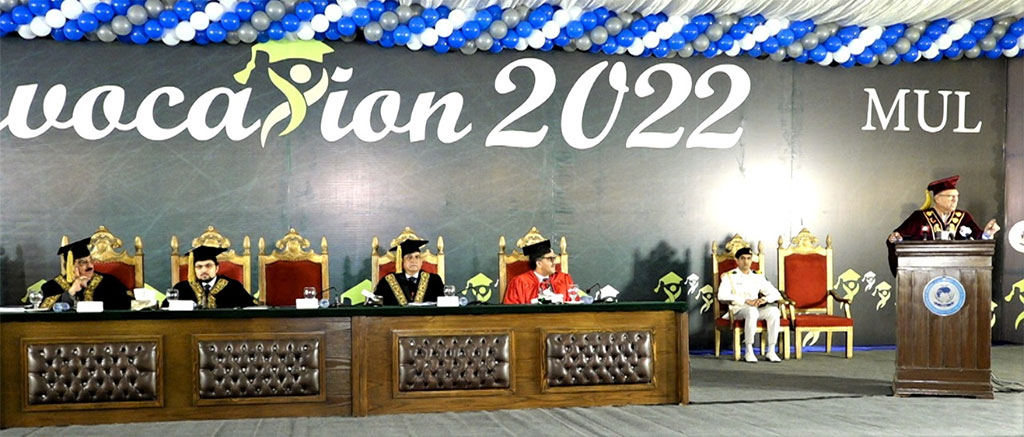 Addressing the convocation 2022 of Minhaj University Lahore (MUL) as the chief guest, President Arif Alvi said that the provision of an enabling environment for the promotion of education is the responsibility of the government. He said that he is happy to learn that women are half the number of the students studying at MUL. He said that we are in need of such institutions as offer equal opportunities to our womenfolk and where no one can intimidate or harass them.
The President of Pakistan congratulated Shaykh-ul-Islam Dr Muhammad Tahir-ul-Qadri and the entire administration of MUL for providing an excellent academic environment. He asked the women who have got higher education to spread knowledge in practical life. He said that it has been observed that many women confine themselves to domestic life and play no role in public life, which is a waste of precious and scarce resources. He said that every member of the society would have to take part in the national reconstruction.
President Arif Alvi gave away gold medals to the students for their excellent academic performance.
In his address to the convocation through video link, Shaykh-ul-Islam Dr Muhammad Tahir-ul-Qadri, Chairman of the Board of Governors of MUL, said that the educated youth holds the key to the national progress and prosperity. He said that education is of no use without training. He asked the youth to establish a relationship with education and research and focus on their character-building. He congratulated the students on achieving milestones in their academic journey.
Prof Dr Hussain Mohi-ud-Din Qadri, VC Prof Dr Sajid Mahmood Shahzad, Khurram Nawaz Gandapur and Registrar Khurram Shahzad warmly welcomed President Arif Alvi on his arrival at the convocation. Punjab Assembly Speaker Sardar Sibtain Khan also delivered his speech at the convocation.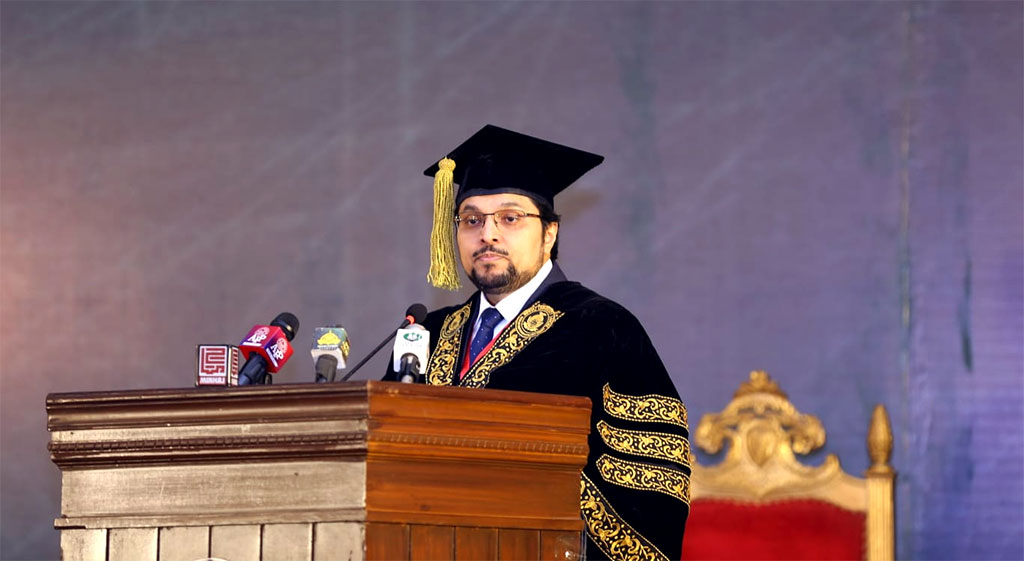 Deputy Chairman, Board of Governors of MUL, Dr Hussain Mohi-ud-Din Qadri extended a warm welcome to the President of Pakistan and thanked him for being the guest of honour. He said that the imparting of modern education, training and research is the distinction of MUL. He congratulated the students on getting medals in recognition of their hard work and academic performance.
Prof Dr Javed Iqbal and Inayatullah Lak, Secretary of the Punjab Assembly were also in attendance at the convocation as special guests. Degrees were awarded among 1562 graduates, out of which 57 students won gold medals, 172 received roll of honours and 62 got merit scholarships. Many students belonging to the various departments were given awards and Rs. 100,000 per student for their excellent performance.
Those from among the MQI leadership who attended the convocation included Brig. (r ) Iqbal Ahmad Khan, GM Malik, Noorullah Siddiqui, Shahid Latif, Shahzad Rasool, Haji Muhammad Ishaq, Tariq Nisar, Dewan Mohi-ud-Din, Babar Javed Butt, Naeem-ud-Din Chaudhry Advocate, Sohail Ahmad Raza, Deans, heads of departments, and the graduates of MUL.