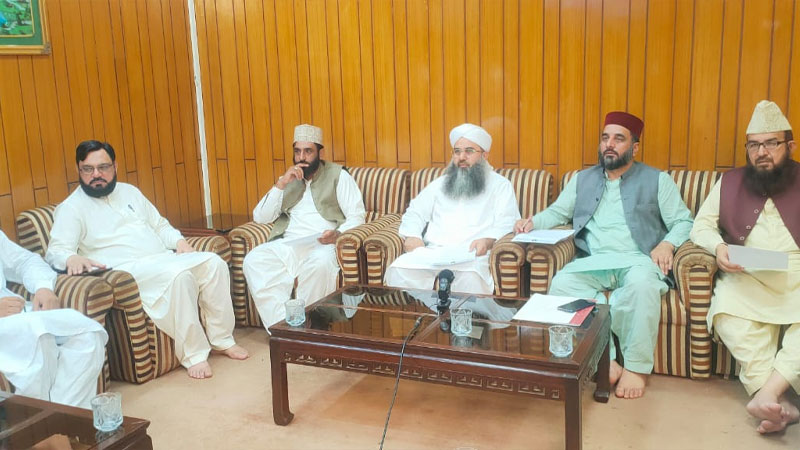 The meeting of Majlis-e-Shura of Nizam-ul-Madaris Pakistan was held with President Allama Imdadullah Qadri in the chair. Those who attended the meeting included Allama Dr. Mir Asif Akbar Mir, Allama Ain-ul-Haq Baghdadhi, Mufti Ghulam Asghar Siddiqui, Mufti Shahzad Waseem Qadri, Allama Khalil Qadri, Allama Azizul Hassan Qadri, Allama Aslam Sabri, Allama Nafees Hussain Qadri, Allama Samar Abbas, Allama Abdul Wahid, Allama Muhammad Rashid Raza, Allama Zahid Raza, Dr. Shafaqat Baghdadi, Allama Wajih-ul-Qadri and others. The office-holders of Nizam-ul-Madaris Pakistan from all the four provinces joined the meeting online.
The meeting held deliberations on the importance, fruits and outcomes of the curriculum introduced by Nizam-ul-Madaris Pakistan in order to curb militant, violent and extremist attitudes.
The participants adopted a resolution to condemn the burning of churches and homes of the members of Christian community. They demanded that those involved in such un-Islamic and heinous crimes need to be meted out exemplary punishment.
Addressing the meeting, Secretary General of Nizam-ul-Madaris Pakistan said that Islam does not allow the burning of religious places of any faith. He said the religion, which is a fervent advocate of tolerance, pluralism, peace, interfaith dialogue and harmony, how can its true followers violate its core teachings and spread chaos in the land? He said that the desecration of all Holy Books including the Holy Quran is a heinous crime and there is a laid down procedure to bring the culprits to justice, adding that no one should be allowed to take law in their hands.
A resolution adopted in the meeting also asked the government to fund the reconstruction and renovation of the burned churches and houses from the public exchequer. It said that those who took part in arson should be fined and the fine money should be given to the affected Christian families as compensation.
Addressing the meeting, Allama Imdadullah Qadri said that Nizam-ul-Madaris Pakistan is waging an intellectual struggle against the violent attitude. Allama Ain-ul-Haq Baghdadi said that we have prepared religious seminaries to deal with the contemporary challenges. He said that the revision of curriculum that has held sway for centuries is a great service and act of revivalism on the part of Shaykh-ul-Islam Dr. Muhammad Tahir-ul-Qadri.